Kittens
As kittens they are weaned and ready for their forever homes at 16 weeks old. All of our kittens come to you having had the appropriate vaccinations. Your kitten comes with a written health guarantee, and all animals are sold only under strict contract. Our contract is for the protection and best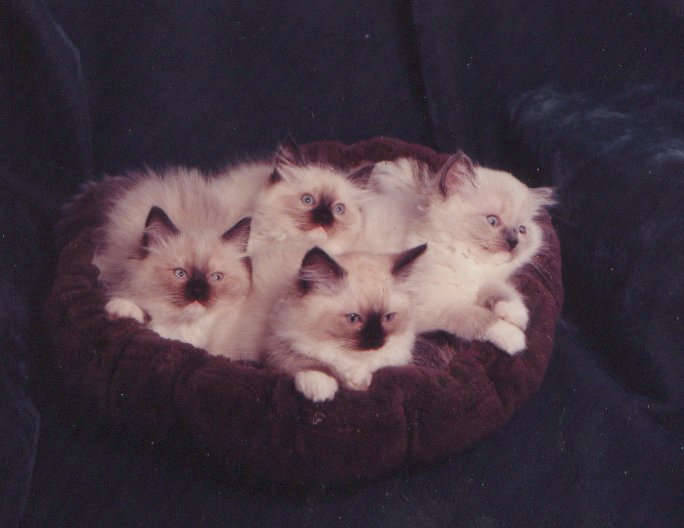 interest of the kitten not for anyone else's benefit. We take a lot of time and effort to make sure your kitten grows up with the best quality products we can provide along with extra love and attention.
Prospective buyers must answer questions and give us references. We will screen our buyers. We want the best possible home for our kittens. The contract and a document about the care of your RagaMuffin will be provided upon purchase of your kitten. We also encourage prospective buyers to ask questions of us as well. Please feel free to email us with any questions at lisarowe@rowetech.com or lisarowe@heavenlymuffins.com
****Note - We reserve the right to determine who is or is not an acceptable purchaser for one of our kittens, in our sole discretion.
~~~~~~~~~~~~~~~~~~~~~~~~~~~~~~~~~~~~~~~~~~~~~~~~~~~~~~~~~~~~~~~~~~~~~~
We will be retiring our female from breeding. Once she is spayed we will list her as available on this page. She will have one more litter in 2019 then she will be spayed and looking for her forever home.
We live in the country, surrounded by mountains and lots of snow in the winter. This winter we have had several cats show up. I guess they know I love animals. These kitties are available for their forever homes. They have been spayed or neutered and up to date on shots. Unfortunately I do not know their background or their specific ages so it is a guess by my vet. All are extra sweet and use the litterbox. These kitties are just the price of their transportation. I do work with several volunteer transports that take donations to get kitties to you. If interested I can put you in touch with them.
Although these kitties are not purebred they deserve loving wonderful homes too. If interested in any of these kitties please email me and I can answer any questions you may have. These kitties have been socialized and are living in my home. I do not want to put them in a shelter and have decided to try and find perfect homes for them instead.
These two boys are neutered and extra sweet. The solid blue boy is very outgoing. The blue tabby boy is more cautious but once he trusts you (took him about 30 min to trust me) he is just as sweet. You have to have both hands free because if you are petting one the other wants petted too. These boys showed up to my house together. They seemed bonded and love each other. I would prefer they go together since they seem to really love each other. They love my granddaughter and do not seem too frightened of my dogs but they have not met them up close just safely from a distance. I was told they used to live in an old chicken coop (so not warm) However they adapted to my home in about 10 minutes. They used the litterbox with no issues. They are about a year old.
This cutie is EXTRA sweet and gives kisses non-stop. She loves adults but is afraid of my granddaughter. She wants to cuddle and if you are sitting down she wants in your lap to snuggle up against you. If you want a cat that loves attention she is perfect. She is about 9-12 months old. She does not seem to like the two new boy cats and is afraid of the dogs but does love adults. She uses the litterbox with no issues and eats well.
Sabbath is a sweet kitty that is about 4 years old or so. Se loves adults and the dogs. Is afraid of kids and afraid of the other two females because they pick on her. She loves to be petted and will meow for attention. She uses the litterbox with no issues. She was living in my old chicken coop when I found her. Her coat is wonderful and non-matting. If I did not know better I would think she was a muffin, she acts like one.
Sirius is about 7 years old we think. She LOVES kids and adults and the dogs. She likes other cats except Sabbath. She will chase her and I am not sure why. Sabath is very sweet so stays out of her way. Some one had abused her and wanted to have her euthanized. So I said I would keep her and find her a home. She is extra sweet and uses the litterbox with no issues.